A Note to my Readers:
Thanks for hopping by and checking out my blog and for signing up to be a follower. When I started it was just my hubby, brother-in -law and his realtor, three non-scrapping guys. I thought I'd have to change the direction of my blog to suit their interests. Although... I do have a post in mind for my non-scrappy male readers, so stay tuned. I wanted to say thank you to my friends, family and fellow scrappers for supporting this endeavor, which is really out of my comfort zone to share so much. Anyways, I hope you are here of your own accord and weren't coerced by my family. Haha. Glad you found your way here.
Sketch Support Card Challenge
Sketch Support will be hosting weekly challenges so check out
Allison Davis' site
if you are interested. This week's challenge was to create a card using her card sketch along with
Jillibean Soup
papers. If you missed this week's challenge, next week's challenge is to create a layout using her double page layout sketch plus Jillibean Soup products.
sample of Jillibean Soup products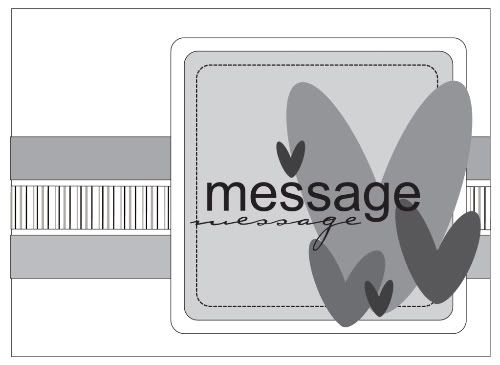 Allison Davis' card sketch
My take on the card sketch
close up of the hand rolled roses
I don't make cards that much, so it was kind of fun to challenge myself. Here is my thought process in regards to creating this card: When I think of Jillibean Soup products, I think of kraft cardstock and twine, don't know if they would be happy with that association, but that was my foundation. I matched that with some of their Pasta Fagioli papers and ribbon, because that is all I had without having to go out and buy more stuff. I also wanted some added dimension to my card so I decided to include some 3-D flowers. After viewing over 20 tutorials, I picked these hand rolled roses which seemed relatively easy to make but are also very cute. If you are interested, you can watch a video tutorial by Brittny LeJeune from her blog
here.
It is very easy so don't be intimidated if you want to try one, just be careful with the hot glue gun. I did burn my finger a bit. But no pain no gain right? I popped up some leaves and hot glued the roses on a pocket with a pull out tag. I then stitched around the pocket on three sides to secure it, but also to repeat the color of the tag and add another design element to the card. I never would have stitched on any project before, but Allison Davis encouraged us to try it in her
My Creative Classroom
class and I have to agree it does add a special touch to all projects.
inside of card
I will be sending this out to one of my followers next week. Who could it be?
Sketch Advocacy
I am a big advocate of sketches, especially if you feel stuck and have trouble starting a page. You can download some sketches from Sketch Support or you can purchase Allison's books from her family's scrapbooking store, Scrapbook Generations
here
.
Allison's sketchbook
It is kind of like if you don't know what to cook for dinner, you look in a cook book for a recipe. Think of sketches as a recipe for your layout. It isn't really copying someone because you choose the colors, papers, embellishments and interpretation of the sketch. Here are some cards from Sketch Support's design team who also used the same sketch and same materials as mentioned above, but we all made very different cards.
If you have some old photos lying around that you've been meaning to scrap, just grab some papers and a sketch and give it a go. It is how I start the majority of my pages. TTFN!