I worked on a series of items based on Allison Davis' sketches. If you want a source of inspiration to help you get started on a project, check out her site
here.
There are single page, double page layouts, card and add-on item sketches plus plenty of examples from her design team members to really get the creativity flowing. Here are my final products:
Layout
Mini-album
Card
Add-on Sketch:
Add-on cupcake sketch
The first sketch I used was a little cupcake that you can make into an embellishment. The most common usage I saw was to put it on a birthday layout.
I was having frozen yogurt and the store had these cardboard dividers that you place in the cup so you can have two separate flavor combinations that won't mix together. When I saw the dividers, I immediately thought of making a cupcake mini-album. The dividers also had ads on them, so I took a few to use as my pages.
Frozen yogurt dividers
I covered the dividers with patterned papers. For the cupcake wrappers, I crimped the paper first to get the same texture a real wrapper. I then punched out different sized circles and layered them on top for the cake part. I also popped some of the circles with foam adhesive for some dimension. I added some liquid pearls for the icing and a pom pom for the cherry.
Crimping paper
There were several pages inside with photos from Isaiah's 4th birthday party, but I'll just show you my favorite page. This has Kevin replicating Isaiah's smile.
Sample page of the album
Card Sketch: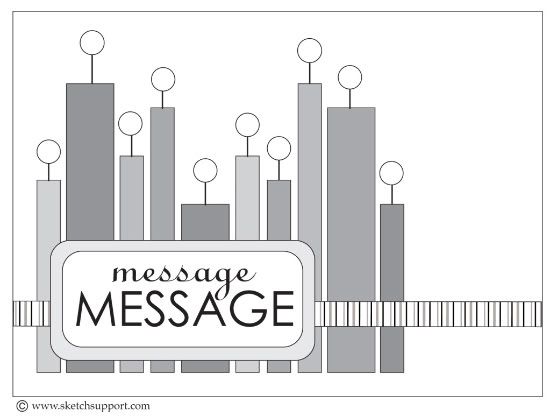 Card sketch
The second sketch I used was this card sketch. The most common usage was to make candles for a birthday card. I saw the shapes as people of various heights. So Kevin and I took a whole series of photos standing at various heights to replicate the design. It was really difficult to take clear photos using the multi-shot self timer mode while moving around. I cut a bunch of the photos out and lined them up on the card. I thought this would be a good card to showcase your kids or your large family.
Single Page Layout:
Last but not least, I made a single paged layout with this sketch. Previously in January, I used this sketch when I was the guest designer and made a layout that followed closely to the sketch. I basically just did a mirror image of the sketch. You can see the full post
here.
Former layout of Nijo Castle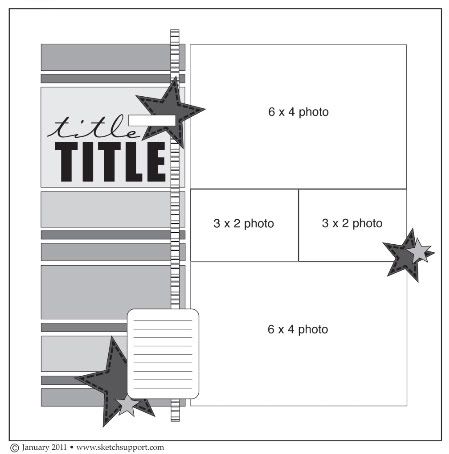 Single Page Sketch
I didn't want to copy myself or make a similar layout so I tried to look at the sketch from another perspective. I rotated it 90 degrees and interpreted the stripes as piano keys. I took a series of photos of Isaiah trying out the instruments at church. Of course, he liked the drums the best.
New single page layout
I made the keys from white and black cardstock, rounded the corners and popped up the black keys. Here are some close ups:
You are a (ringo) star layout
Take care,